---
Looking for cheap (or free) food delivery? Check out FoodBoss today and find your next meal with ease!
---
Order Lou Malnati's Delivery
It's a well-known fact that if you're looking for great pizza in Chicago, you don't have to look very hard. The next time I'm looking for pizza delivery near me, I'll be googling where the closest Lou Malnati's is, because they're currently spread across 47 locations in the Chicagoland area, most of them within a radius of 5 miles of the city.
Lou Malnati s pizzeria is a well known favorite in Chicago so I decided to put it to the test to see how it would hold up to my keen scrutiny. Luminati pizza more than withstood my skepticism, frankly it blew me away with how delicious it was.
Anyone alive in Chicago during the 80s and 90s will remember the rise of the Malnati's chain. The buttery crust and the home-made sausage made Lou Malnati's pizzas an unforgettable treat, and people consistently returned time and again to experience the pizza. I'm not from Chicago but I've heard the stories from friends.
---
Lou Malnati, who named the pizzeria after himself, opened his first pizzeria in the suburb of Lincolnwood in 1971. Prior to starting his own chain, he worked alongside his father Rudy Malnati, who is credited with the invention of the deep-dish pizza at Uno's. By 1995, they had spread to 9 locations in and around Chicago. Malnati pizzeria is today synonymous with great pizza and great innovation and for good reason.
Order Lou Malnati's Delivery
Chicago has a long and unique history with the great pizza. It all started when Neapolitan immigrants arrived in Chicago during the 19th and 20th centuries, and soon enough Chicago found itself with a thriving Italian immigrant community. The Italian community sought to cling to their roots by upholding their cuisine while also sprinkling in an American inspiration. The result is a city with a truly amazing pizza tradition.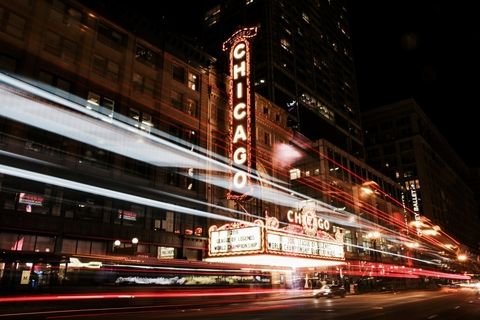 There are three major types of Pizzas popular in Chicago, the Deep-dish, the stuffed pizza, and thin-crust pizza. The signature deep dish style pizza has a tall crust in order to contain the large portions of cheese & sauce that inhabit the inside of the pizza. Of course, certain chains and outlets have developed their own unique specialties with time, but the classic qualities of a great deep dish pizza have remained unchanged.
An interesting tidbit about the history of Chicago Pizza is the fact that a debate still remains surrounding the origins of the Deep-dish Pizza. Many people claim Ike Sitwell, co-founder of the Pizzeria Uno, should be credited with the invention, while others argue that the chef employed by them Rudy Malnati deserves credit for the invention. In Chicago, Pizza is more than a cuisine, it's a part of its diverse history.
Since Lou Malnati's is known for having some of the best pizza in Chicago, I decided to visit and decide for myself where it ranks among Chicago's pizza places. Apart from deep-dish and thin-crust Pizzas, Lou's serves a wide variety of appetizers including soups, salads, pasta, sandwiches, desserts and beverages. Situated in one of the more popular neighborhoods of Chicago, it provides a rather welcoming atmosphere with outdoors seating available in the summer months. Parking is also available just about anywhere around the restaurant.
---
I started off the night with Calamari and surprisingly it was some of the best Calamari I've had. It was crispy without being overly greasy, and the marinara they paired it with was amazing.
Order Lou Malnati's Delivery
We all know the Deep Dish is the specialty at Lou Malnati's. Now, this doesn't mean you can't also try out the thin-crust and Gluten-Free varieties, but in order to get the true Lou Malnati's pizza experience, I knew deep dish was my only option.
For dinner we ordered The Lou, which came highly recommended from my friends and other pizza nerds alike. It's the signature pizza of the chain, and it's topped with spinach, mushrooms, and sliced tomatoes. We ordered a medium, which ended up being more than enough for 2 people, and the pizza was probably the best I've ever had in my life! Tons of mozzarella cheese was a must addition and it was oh so gooey and delicious.
While it often goes unnoticed, the crust can be one of the most critical parts of a pizza, and Lou Malnati's does not disappoint in this area. We decided to go with Lou's signature butter crust (they've actually trademarked the term) and it's phenomenal. While you must specifically ask for it, the nominal upcharge of 75¢ is worth it. It has the perfect texture, flaky without being weak, and crispy without being hard.
If you prefer to be gluten free, Lou's makes a special pizza where they replace the crust with sausage. The sausage doesn't bind to the cheese as well as traditional crusts, but to many it's nonetheless delicious. Admittedly, this may be the only time I've ever wanted to go gluten free.
The homemade sauce they use is phenomenal; it's just the right amount of sweet, a little tangy, and definitely better than the tomato sauce you get with a typical pizza chain.
The cheese contains a blend of Mozzarella, Romano, and Cheddar cheese, and is out of this world! Just try not to eat too much at once, because the cheese is really thick and I don't want you to die like I nearly did.
---
Order Lou Malnati's Delivery
Overall, a meal for 2 costs around $30-35, which is not bad considering you'll most likely be bringing half of the pizza home. The next time I'm looking for pizza near me, I'll definitely be looking for the closest Lou Malnati's.
The best part about Lou's is that they also offer delivery. Everybody has one of those nights. You've been busy all day, you just got home, you're tired, and cooking dinner for yourself is looking like a nearly insurmountable task. Relax.
Lou Malnati's delivery is available on multiple food delivery services. And if you're like me and don't like overpaying when I don't need to, then use FoodBoss to compare which service can deliver this deliciously decadent deep dish pizza to your door at the lowest price possible. Chicago style pizza revolves around Lou Malnati's and for good reason.
This might be the best pizza restaurant in the Chicago area, and lucky for you, it's only a few clicks away from arriving at your door today! Find Lou Malnati's and other amazing pizza options in Chicago or in your city with FoodBoss, the food delivery aggregator.
---
To get all your food delivered at the lowest possible cost, use FoodBoss, the food delivery aggregator. Available on iOS and Android.