What do you get when you mix New Year health resolutions, pandemic safety measures keeping you to "to-go" options, and the inevitable wave of food cravings? Keto Bowl deliveries, of course!
Like the Atkins diet, a "ketogenic" (or keto, for short) diet focuses on minimizing carbs while focusing calorie intake from proteins and fats. This approach can help you burn fat more effectively, while keeping hunger at bay longer. Essentially, the idea is that proteins will keep you full longer, so you don't have to eat as many calories to stay satiated during the day.
Find Food Delivery on FoodBoss
Especially in the first 6 months of a diet change, a low-carb diet can also help a person lose weight faster than a low-fat diet, by removing excess water from the body, lowering triglycerides (or fat molecules) created by the simple sugars found in many carbohydrates, and pushing the brain to use up ketones (or fatty acids) in the liver instead of relying on glucose (another kind of sugar).
But what is a keto bowl? And does it mean an overhaul of your existing diet?
Nope.

In fact, keto bowls generally take all the tasty insides of tasty, to-go staples you already love - a burrito, sub sandwich, or other sandwich-style dish - and lays out those proteins on a bed of vegetables and other fresh ingredients instead of carb-heavy carriers like bread or rice.  Since they are also packaged in a container, keto bowls are also a healthy, easy meal option to take anywhere.
Check out these restaurants keeping the flavor high but the carb count low in their keto bowls:
Compare Food Delivery Prices
---
Chipotle - Lifestyle Bowl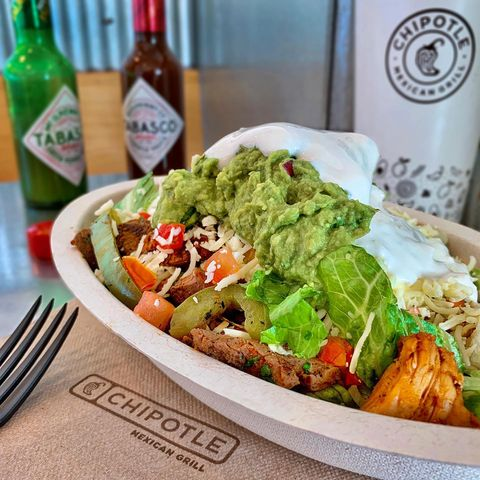 You've seen their giant guacamole bowls where they mix up fresh ingredients every morning, but don't miss their new Lifestyle Bowls that are keto, Whole30, vegan, and paleo-friendly too. Who needs rice, anyway?
Qdoba - Create Your Own Bowl
Qdoba's Mexican Cauliflower Mash comes in at only 6 grams of carbs per 4oz serving, but pairs with almost anything else on their menu. Plus, there's no extra charge for guac and queso here! Insider Tip: Qdoba has a variety of bowls in its new "lifestyle options" menu, but don't miss the Smoked Brisket Keto Bowl.
Pacific Poke - The Keto
Two of the best kinds of bowls pairing up in one delicious half-circle: poke bowl, meet keto bowl. Who knew it would take a couple of Canadians to bring this to life! If you're north of the border, head to Pacific Poke in Vancouver for this incredible tuna-meets-black truffle-meets-shoyu egg experience.
Taco Bell - Power Menu Bowl
"Live más"... on menos carbs. Skip the beans and rice in the Bell's Power Menu Bowl, but add a creamy, easy, 30-calorie avocado ranch sauce for that extra pizzazz. To switch it up between visits, try swapping out the potatoes for a protein in their Mini Skillet Bowl, too. We basically call it the Keto Bell in our GPS now.

Jersey Mike's Subs - Sub in a Tub
You might know about being "cold as a cucumber" or gravitating to the "cream of the crop".... But perhaps one of the most important alliterative reminders for a keto diet is Jersey Mike's "Sub in a Tub"! Ask for your sub sandwich this way, and Jersey Mike's will put any sub in a container of lettuce for you instead of on bread.
Applebee's Grill & Bar - Irresist-a-Bowls
Yes, yes - we know you might have hit up your local Applebee's for its Perfect Margarita, riblets or Triple Chocolate Meltdown when you don't want to waste a splurge night. Did you know Applebee's also has some great, non-splurge options too though? Their new Irresis-a-Bowls are rooted in Applebee's signature Tex-Mex and Southwest flavors, and you can add or subtract parts of the dish as you wish: throw in a little more of the guac and beans while leaving out the rice.
Cove Beach Makers District - Keto Bowl
There are good keto bowls… and then there are the luxury keto bowl experiences like the one you'll find at this new beach club that stands out even among the glitz and glamor of Abu Dhabi. With three pools (including an infinity pool), a view overlooking Rheem Island, and options like a free-flowing, 4-course brunch, Cove Beach knows what it's like to separate a keto bowl… form a keto bowl experience.
Chili's Grill & Bar - Fresh Mex Bowl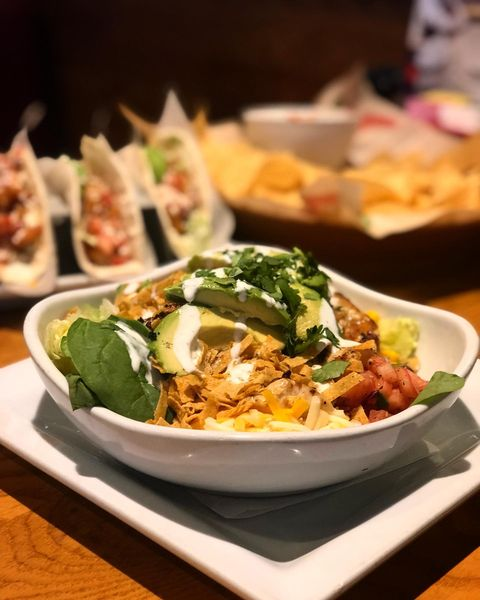 Chili's has a big menu, but your carb count can stay small at 80 grams or fewer if you stick to the Chipotle Chicken/Shrimp Fresh Mex Bowl. I want my keto back, keto back, keto back...
Del Taco - Fresca Bowl
In a pinch, skip the rice and beans in Del Taco's Fresca Bowls. At just about $5 and under, these bowls are both quick and affordable.
El Pollo Loco - Fire-Grilled Chicken Bowls
These fire-grilled pollos now come on a bed of greens and colorful salsas, with the carbs held back. Bonus: the Double Chicken & Mango Bowl is also paleo-friendly.
Freebirds World Burrito - Keto/Paleo Burrito Bowl
Down South in Texas? You're in luck, because the "most craveable restaurant brand" in the country has launched cauliflower rice across the state. With just the right hints of spice and at only $1.50 more to swap in this low-carb option, you can whip up your own personalized bowl, or go for tried-and-true favorites like their Keto Burrito Bowl with steak, or Paleo Burrito Bowl with chicken.
HG Sply Co. - Build Your Own Bowl
Another one for the Texans (heads-up: one more Texas-based option right below this)! HG Sply offers options aplenty for you to customize to your heart's (stomach's?) content. While "HG" might stand for "hunter/gatherer," the options they provide are decidedly modern in variety while staying traditional in serving up high-quality, natural ingredients. From shaved brussels sprouts to to chile-garlic broccoli as a base substitution to "grits," HG Sply is a can't-miss if you're in the Dallas area.  
Fajita Pete's - Pete's Keto Bowl
Last stop on the Texas keto flattery: Fajita Pete's. Starting in 2019, all Fajita Pete's locations started offering their famous fajitas on top of a bed of lettuce, accompanied with all the fixins' you can't miss: creamy sour cream, bright cheese, fresh guacamole, and more.
Moe's Southwest Grill - Build Your Own Bowl
Their not-so-keto Homewrecker Bowl may get a lot of the attention here… but don't forget that you can always Build Your Own Burrito Bowl at Moe's! With over 20+ ingredients for each bowl variation you can dream up, Moe's might have one of the most flexible burrito bowl offerings on this list.
Tocaya Organica - Keto Bowl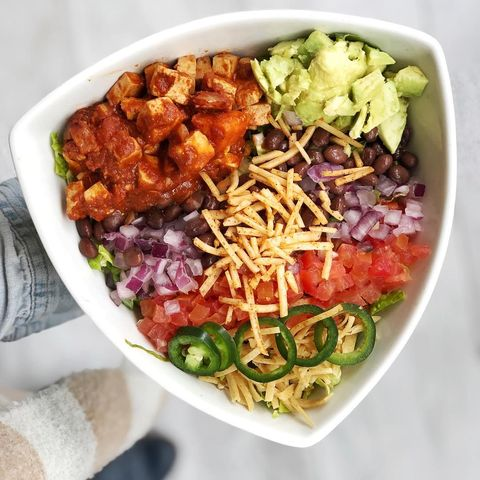 Californians and Arizonans, listen up! Tocaya Organica offers 4 different bowl bases to pair with your choice of protein and queso. They recommend starting with their Diablo Chicken and Queso Fresco, but we're also telling you not to miss out on their juicy, marinated Chicken Tinga or flavor-packed Beef Chorizo…

Mix and match the bowl options to get your own spin too, if you're looking to stay vegan, gluten-free, or wanting to add a kick of spicy.
Rubio's - 6 Different Bowls on the Menu!
Lots of restaurants (including a few on this list) will give you the option to remove the rice and buns or even swap in some cauliflower rice, but Rubio's has…. *wait for it*.... Cheese tortillas with just two grams of carbs each so any taco can be ordered keto-style! If you're still craving the portability of a bowl though, we recommend their Cilantro Lime Quinoa Bowl with grilled veggies.
Zoë's Kitchen - Power Grain / Salad Trio Bowls
A lot of us might think of Mediterranean-inspired flavors when it comes to keto bowls…. So why not go a little closer to the source for your next meal? Zoë's Kitchen has more than 250 locations from Alabama to Texas, and has 3 very solid base options for keto bowls. Warm or chilled, and with pesto farro, tzatziki, and Shkug on the board for bowl options, Zoë's light, green, and Greek-inspired flavors complement the best bites of eating keto.
Too Much Sauce - Buddy's Keto
Over in Orlando, Florida, the keto community has such a passion for their food that Too Much Sauce collaborated with their mayor, Buddy Dyer, to mix in lemon pepper salmon, a homemade Italian Vinaigrette and some feta cheese into a bowl that's anything but boring. Not to get too political here… but this bowl might be the winning ticket.
Asis Juicery - Raw Keto Bowl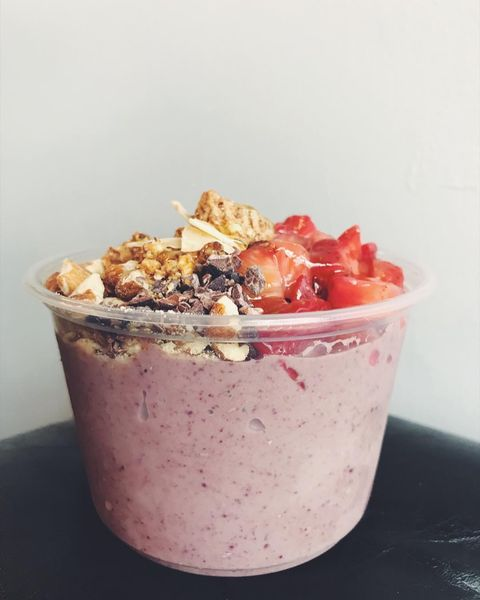 When in doubt, you can't go wrong with two things: good food in its natural state, and doing good while eating it. Asis Juicery (pronounced Ah-sees) in Redding, California doesn't just offer a fresh, heart-healthy, keto bowl, but also all its complements: mushroom coffee, cold-pressed juice shots, and reminders on its walls to love your body and community. As part of their mission, they also donate profits to Juicing for Justice, a non-profit that provides resources and community for survivors of sexual trauma.
Compare Food Delivery Prices
Keto bowls have long been the leaner, more muscled cousin to the burrito bowl, but there is now no shortage of keto options and experiences. From açai berries to subs in tubs and luxury keto meals, it's easier than ever to stick to a diet that can help stave off hunger longer while burning fat faster. And if your favorite restaurant didn't show up on our list, make your own! A good rule of thumb is hold off on high-carb options like rice and wraps, while loading up on high-protein meats, guac, cheese on top of fresh fruits and vegetables. The best part of course, is that you'll then be able to bring your bowl anywhere (once we start leaving home again, that is!).
---
Kylie Foo
Kylie Foo advises businesses on how to leverage new marketing software and strategies for paid media campaigns. She previously worked with Enterprise and Strategic customers for G2 and Metadata.io.
When possible, she loves to eat, travel, and eat some more. Currently, chili cheese fries are her 10pm, go-to delivery order on Foodboss.