Welcome to FoodBoss! FoodBoss is the world's only food delivery aggregator saving you money and time on all your food delivery orders from your favorite restaurants across the country. Read below to discover how FoodBoss provides the most information about food delivery allowing you to save money and time on your next meal!
---
What is FoodBoss?
Like we mentioned earlier, FoodBoss is a food delivery aggregator. Sounds complicated, right? Well, it turns out you're a lot more familiar with aggregators than you probably thought. Think about how you buy flight tickets or book a hotel. Odds are you don't only check the website of a specific airline or hotel and accept the price they give you without searching for a better deal first. You probably go to a website that shows you prices from multiple different airlines and hotels in the same place so you can pick which option saves you money, has better times, or a different availability. This is an aggregator.
FoodBoss replicates the experience of using an aggregator for flight tickets or hotels but in the food delivery space. We compare the different fees and delivery time estimates from the top food delivery services for thousands of restaurants in over 40 cities nationwide. You can search for almost any restaurant in your city that offers food delivery to see what the price of delivery would be from multiple different food delivery services.
Food delivery estimates vary wildly between various delivery services. FoodBoss finds the lowest prices and quickest delivery times guaranteed.
Another great benefit of FoodBoss is the number of restaurants we display to consumers on the platform. No food delivery service has every restaurant on their site, despite their claims. Some restaurants have exclusive partnerships with certain food delivery companies. With FoodBoss, you know you are viewing the most number of restaurants possible in one place because we combine the results from all the top food delivery services at once.
How does FoodBoss work?
Much like how other aggregators work, we do the work for you and compile all the information about food delivery fees and time estimates into one easy to use platform. Just enter your address, give us a second to gather the information, and then view the results sorted by delivery fees, delivery times, or recommended restaurants. We compare prices from our third delivery partners (Uber Eats, Postmates, Caviar, Eat Street, and Delivery.com) as well as individual restaurants who offer their own independent delivery or carry out option on the results page. You can also search by cuisine type, and we will show you corresponding restaurants in your area.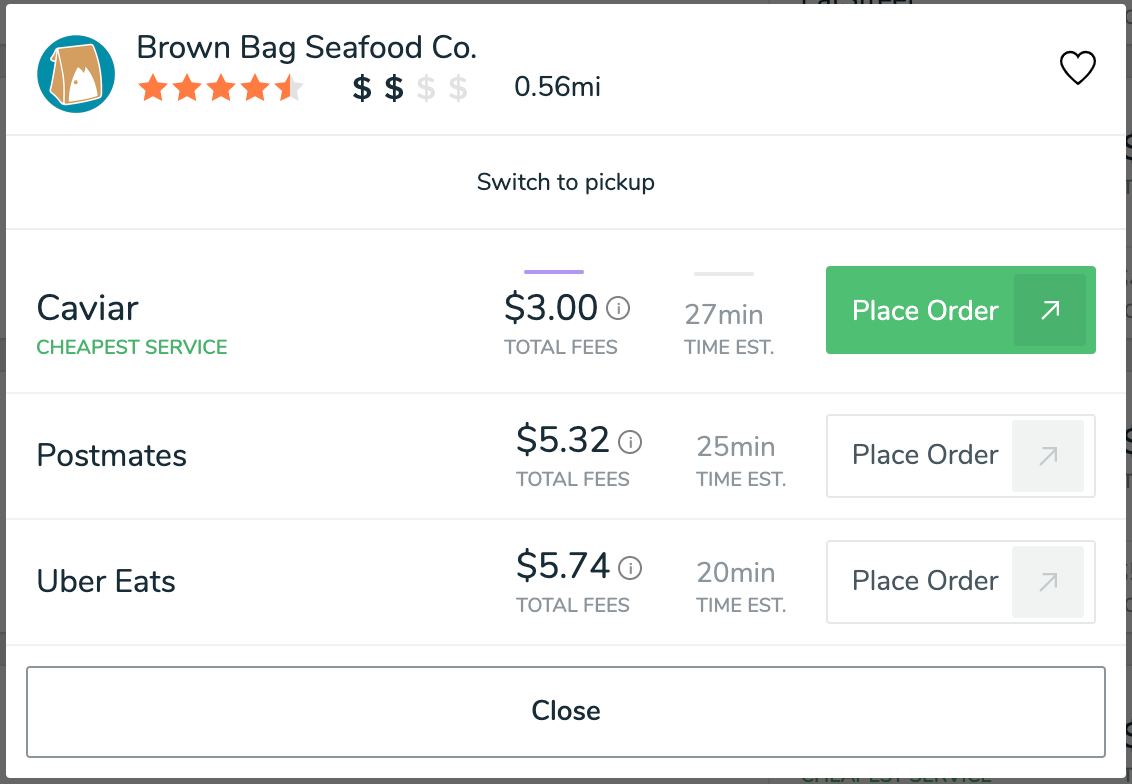 It's as easy as that. We aim to make the food delivery process as simple and straightforward as possible. The best decisions are made when people have the best information available to them. If you wouldn't book a hotel without comparing prices on different sites, why would you order food delivery without comparing fees and time estimates? With FoodBoss, now you can compare with no extra effort.
So FoodBoss is a Food Delivery Company?
No. What we do is provide you, the consumer, with the best information possible about food delivery in one place. FoodBoss hosts some of the top food delivery companies in the country (Uber Eats, Postmates, Caviar, Eat Street, and Delivery.com) on our platform. When you look at the different fees and delivery time estimates for a restaurant and decide which option is best for you, select the service by clicking on the link displayed, and you are redirected to that companies website to complete your order and get your food delivered. We don't process the orders or deliver the food. We pass you along to one of our great partners who complete your order. What we offer is information to you so that you can make the best decisions possible.
Why Should I use FoodBoss?
Like we mentioned earlier, you can save money and time using FoodBoss. So, of course, you're now going to ask how much. Per order, our users can expect to save around $2 - $4 when using FoodBoss. You might think that doesn't sound like a lot, but it adds up like you wouldn't believe. Based on the average number of orders per week (2) for people in the market, per year this would save you around $208 - $416 per year on food delivery! Also, by selecting the options with the fastest delivery times, we can save people a considerable amount of time waiting for food. Roughly 10-20 minutes is the average difference in time between delivery partners. But often, there will be even longer wait times for certain services in certain areas at busy hours of the day, so picking the right food delivery service is important to ensure you get your food when you want it.
Another benefit when using FoodBoss is knowing you have the widest and most extensive selection of food delivery options available. Since we combine the offerings of our partner services on FoodBoss, we have the largest database of restaurants who offer food delivery you will find anywhere. Guaranteed.
How Much does FoodBoss cost?
Nothing! FoodBoss is a free service like any other aggregator. We don't charge our consumers to use the platform and we never will. Providing consumers the best and most complete information about food delivery is what we are here to do.
How do I Sign Up?
If you're ready to start saving money on all your future food delivery orders, FoodBoss is a must for you. To be redirected to our sign up page, click the link below. Or download our app!
Sign Up For FoodBoss and Stop Overpaying for Food Delivery
Download it on the App Store
Get it on Google Play
You can also check out our homepage to see more information about FoodBoss.
---
Written By: Jake Stiller
Twitter | LinkedIn | Instagram
Author Bio: Jake is new to the foodie scene. Since he grew up between the cornfields and suburbia with a brother and father who were both picky eaters, he was raised on a diet of meat and potatoes. Since moving to Chicago 4 years ago, he has discovered the entire world of food and loves to try new cuisines/national dishes whenever he gets the chance. Some of his favorite discoveries are Arepas, Ramen, and Korean BBQ.
---
Recent Press about FoodBoss
We recently closed a new round of funding that will allow us to expand our service to even more consumers. If you are interested, click on some of the articles below to see what people are saying about FoodBoss!
Food delivery search engine gets $2M in funding from ex-McDonald's CEO's firm
FoodBoss Closes Fundraising Round Led By Cleveland Avenue, LLC Investment Firm
FoodBoss, the Price/Time Comparison Tool for Food Delivery, Raises $2M
'Kayak' Of Food Delivery Tackles Cost, Convenience