Compare Great Food Delivery Options
Welcome to FoodBoss, the world's only food delivery search comparison engine saving you money and time on all your food delivery orders from your favorite restaurants across the country. Read below to discover how FoodBoss provides the most information about food delivery allowing you to save money and time on your next meal!
---
What is FoodBoss?
Like we mentioned earlier, FoodBoss is a food delivery search engine. Search engines are common in many other industries, and now there's FoodBoss.
You probably buy flight tickets or book a hotel in a similar way. Odds are you don't only check the website of a specific airline or hotel and accept the price they give you without searching for a better deal first.
You probably go to a website that shows you prices from multiple different airlines and hotels in the same place so you can pick which option saves you money, has better times, or a different availability. FoodBoss is simply a food search engine similar to those that exist in the airfare space and others.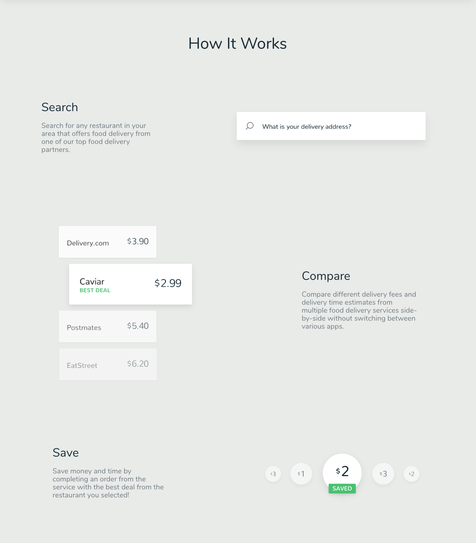 FoodBoss replicates the experience of using a search engine for flight tickets or hotels but in the food delivery space. We compare the different fees and delivery time estimates from the top food delivery services for thousands of restaurants in over 45 cities nationwide. You can search for almost any restaurant in your city that offers food delivery to see what the price of delivery would be from multiple different food delivery services.
Food delivery estimates vary wildly between various delivery services. FoodBoss finds the lowest prices and quickest delivery times guaranteed. Use it on every order.
Find the Best Deals on Food Delivery
Another great benefit of FoodBoss is the number of restaurants displayed to consumers on the platform. No food delivery service has every restaurant on their site, despite their claims. Some restaurants have exclusive partnerships with certain food delivery companies. With FoodBoss, you know you are viewing the most number of restaurants possible in one place because results from all the top food delivery services are combined at once.
---
How does FoodBoss work?
Much like how other search engines work, we do the work for you and compile all the information about food delivery fees and time estimates into one easy to use platform. Just enter your address, give us a second to gather the information, and then view the results sorted by delivery fees, delivery times, or recommended restaurants.
We compare prices from our third party delivery partners (Uber Eats, Postmates, Caviar, Eat Street, Delivery.com, and others) as well as individual restaurants who offer their own independent delivery or carry out option on the results page. You can also search by cuisine type, and view corresponding restaurants in your area.
FoodBoss aims to make the food delivery process as simple and straightforward as possible. The best decisions are made when people have the best information available to them.
If you wouldn't book a hotel without comparing prices on different sites, why would you order food delivery without comparing fees and time estimates? With FoodBoss, now you can compare with no extra effort.
---
So FoodBoss is a Food Delivery Company?
No. FoodBoss provides you, the consumer, with the best information possible about food delivery in one place. FoodBoss hosts some of the top food delivery companies in the country on our platform.
When you look at the different fees and delivery time estimates for a restaurant and decide which option is best for you, select the service by clicking on the link displayed, and you are redirected to that companies website to complete your order and get your food delivered.
FoodBoss doesn't process the orders or deliver the food. You pass along to one of our great partners and then complete your order. What we offer is information to you so that you can make the best decision possible.
---
Why Should I use FoodBoss?
Like we mentioned earlier, you can save money and time using FoodBoss. In fact, users can expect to save around $3 - $5 on every food delivery order they place.
Based on the average number of orders per week (2) for people in the market, per year this would save you around $312 - $520 per year on food delivery!
Save Money on Every Order
Also, by selecting the options with the fastest delivery times, we can save people a considerable amount of time waiting for food. Roughly 10-20 minutes is the average difference in time between delivery partners. But often, there will be even longer wait times for certain services in certain areas at busy hours of the day, so picking the right food delivery service is important to ensure you get your food when you want it.
Another benefit when using FoodBoss is knowing you have the widest and most extensive selection of food delivery options available. Since we combine the offerings of our partner services on FoodBoss, we have the largest database of restaurants who offer food delivery you will find anywhere. Guaranteed.
FoodBoss has over 225,000 restaurant listings - more than any other delivery service in the cities we serve.
---
How Much does FoodBoss cost?
Nothing, FoodBoss is a free service with no charge for consumers to use the platform. Providing consumers the best and most complete information about food delivery is what we are here to do.
---
How Has FoodBoss Responded to Coronavirus
Like any company in the food delivery industry, FoodBoss saw a dramatic shift in consumer demand once the Coronavirus hit. Our user base has grown upwards of 75% on a month-over-month basis since the beginning of Coronavirus. As we continue to expand, we are looking to do more to help not only our users, but also the restaurant industry.
Last month we launched our Restaurants Open For Business campaign to support restaurants across the country during these difficult times. While restaurants face an uphill battle during these times, we are committed to doing our part as a part of this industry.
---
How do I Sign Up?
If you're ready to start saving money on all your future food delivery orders, click the link below or download our app on either iOS or Android.
Sign Up for FoodBoss
Online food delivery is a huge market and it only continues to grow and expand rapidly. Third party search engines are all searching for ways to find profits in this highly competitive industry, and unfortunately that means prices are unlikely to decrease any time soon. To make food delivery more available, the business model may need to change away from how it currently exists.
It will be interesting to see how the market changes during 2020 when some of the larger industry players make business moves towards profitability.