Click for the Best Food Delivery Deals
What is behind the high cost of delivery food?
It is no secret that the cost of food delivery can be staggeringly high. Yet consumers, trapped by today's fast paced lifestyle, which leaves little to no time for meal prep or cooking, often cave to the convenience and lure of food delivery. We often get asked, "how much does it cost to have food delivered?", "How much does food delivery cost?", or "What is the most expensive food delivery service?" As you might already know, it varies greatly, but we finally decided to take an in depth look and break it down.
---
*June 25th Update: As Coronavirus swept across the country, food delivery costs actually trended downwards across the country. While the trend wasn't consistent in every city, most cities FoodBoss researched saw delivery costs decrease.
*November 5th Update: This summer saw a rise in in-person dining, however food delivery demand remained at pre-pandemic record highs. As we move into the winter months, and as we see nationwide a possible third spike, we project this winter food delivery will once again soar to new highs with demand and market penetration. What net affect this will have on food delivery pricing can't be known for certain, but FoodBoss remains committed to providing our users with the most accurate real time information so you always know you're getting the best deal possible on food delivery.
---
We were interested to find out more about the exact cost of food delivery and why it is so expensive. There's a saying, "it costs what it costs," but this wasn't enough for us so instead we took an in depth look at the costs and fees relating to food delivery. Keep reading to see what exactly your money goes to each time you use a food delivery service. Food delivery costs shouldn't be a secret.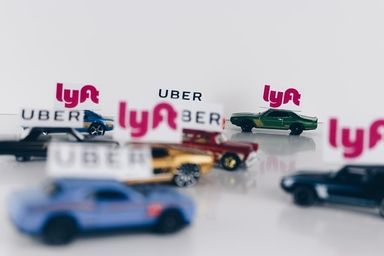 In some states starting this year, gig economy workers, which include food delivery couriers, will now be classified as employees and no longer contract workers. This change could have a huge impact for food delivery companies. While many gig economy employers have promised to fight back against the new law, it is not clear what affect the new law will have. But, expect the cost of burden to transfer to consumers who will likely see higher fees for delivery service.
Sort for the Lowest Fees
See below for a breakdown of fees by various service:
Food delivery is definitely a luxury expense. However, it is also becoming more and more popular. It is estimated that there are currently 38 million third-party food delivery app users in the US. Next year alone it is predicted there will be a 16% increase in users up to over 44 million. The food delivery industry is still growing and finding its footing. That said, as many of the largest companies in the industry plan to IPO this year or continue to raise hundreds of millions of dollars in capital, it is an industry that is here to stay.
Food delivery was impacted as much and maybe more than most other industries. While food delivery was expected to grow over the next few years, the impact of restaurant closures and shutdowns across almost the entire country has expedited its growth as an industry. In some cities across the country, food delivery demand increased as much as 40% from February to months like March, April or May. The number of food delivery users has also dramatically increased. While the March collapse of Wall Street likely means that many of these food delivery companies might pushback their IPO plans, they are still growing dramatically.
If you're wondering about any of the information on this chart here's a quick summary.
---
Food Delivery Definitions Summary:
Delivery Fee: The basic fixed price cost you probably think of when preparing to order food delivery
Surge Pricing: Similar to in ride-sharing, when there are busy times, you'll see the prices for food delivery are higher.
Service Fee: Maybe the most missed cost of food delivery. Service fee is a percent of the cost of your order added to your final bill. It can be as high as 25% of your food cost so if you order $20 worth of food, you could be paying $5 in just service fees alone!
Small Cart Fee: The concept is similar to a minimum order amounts, but instead of forcing you to buy a certain amount of food, you might just be charged an additional fee to make small orders more worth it for the companies.
Delivery Minimum: Unlike a small cart fee, a delivery minimum can't be ignored. Unless you are buying the minimum amount set by that company, you can't get what you want delivered.
Merchant Fee: A merchant fee is added to your bill by certain restaurants who ask the delivery companies to include it to help them offset the profits lost from food delivery. These small fees vary.
---
The prices these companies charge may be high, but the value they provide is definitely worth it to some people. You will be best served using an app like FoodBoss to keep the costs of ordering food delivery as low as possible. Easily find the best food delivery option on FoodBoss.
FoodBoss is a food delivery search comparison engine. It compares the delivery fees and delivery time estimates for multiple different food delivery companies. You can check which service offers the lowest or fastest delivery option from whatever restaurant you want. Another perk is that on FoodBoss you have the widest selection of restaurants to choose from because every food delivery service is listed in one place. That means all the restaurants offering food delivery from each service can be compared in a single place instead of having to flip between multiple apps to find the food item you crave or menu price you're looking for. Find the true cost of food delivery services easily with FoodBoss.
Compare Food Delivery Deals
Food delivery is definitely expensive, but that doesn't mean you can't still find great deals from some of your favorite restaurants. FoodBoss is the free service that allows you to find these deals easily and confidently thereby saving you time and money on food delivery. If you're ever looking to save money while still experiencing the convenience of food delivery, FoodBoss is the best option.
Explore FoodBoss today to see how you can save money on every food delivery order you make.
Signup for FoodBoss