In today's society it is easy to go to a drive-thru and order a "delicious" meal that is high in fat, sugar, and salt, however, it isn't as easy to enjoy the negatives that come with it later in life. You can say what you want, but most people would prefer a home-cooked meal with amazing ingredients than something that has been frozen and preserved with tons of chemicals. Yes, fast food tastes great, but what is great is having good health amongst you and your family. If you have been looking for new foods to consider or simply want to try what the Amish have been doing for a long time, then this is the place to find the information. In this article, we will be discussing who the Amish people are, what you'd consider "Amish" food, where their influence for cuisine comes from, and Amish restaurants serving real Amish food.
Compare Food Delivery Prices
---
Who are the Amish?

The Amish are considered a Christian fellowship or group of people who seem to have removed themselves from urban life and prefer to devote themselves to the belief in one God. This belief and faith create for them a sense of devotion to living a life in which they value discipline and hard work. Discipline and hard work are reflected in their cuisine where they grow their food in their farms, laboring to get the rewards. Opposite to today's urban cities where most people don't grow their food and can pick whatever they want from a store. The Amish are also very calm, humble, and placid people. The Amish are spread out throughout the country and you can find Amish communities if you simply look for them. They are often confused with the Mennonites, but though they have similar customs and ideas, they are not the same.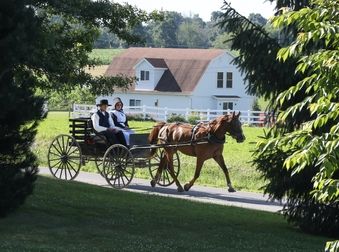 ---
What is Popular Amish Food?

The Amish are self-sustaining as reflected by their food. They mostly eat foods grown by themselves in their gardens or farms and will prefer this over anything else. These include fruits and vegetables which they typically freeze, can, or eat fresh. The Amish stay away from processed foods found in stores like potato chips or cereals. Fast food restaurants and dine-ins are not a habit they partake in, but they have their well-known dishes.

If you have never heard of Amish food, below you will find some Amish meals/traditional Amish food considered "staples" which come from ingredients grown on their farms:

- Chipped Beef Gravy
- Beets
- Apple Butter
- Shoofly Pie
- Scrapple
- Chicken corn soup
- Bologna
- Pot Pies
- Butter Noodles
- Dutch cabbage rolls
- Doughnuts

This article is not long enough to describe each of these meals, how they are made, and what ingredients are included, but you can do your research if you want to taste some real Amish food at home.
---
Where did the influence of Amish food come from?

The food influences of the Amish come mostly from the Bible, German tradition, and are typically passed down from generation to generation. Amish and Mennonite Swiss Brethren split while in Europe so much of their cuisine and food traditions are also influenced by European traditions. The Europeans tend to be more conscious of the foods they eat, making sure everything is fresh and healthy. Amish communities stay true to who they are and their beliefs and will not be influenced by the current American way of life where food is fast and unhealthy.
---
Can traditional Amish cooking be found outside of an Amish community?

If you want a simple answer it is no, you would have to visit an actual Amish community to get traditional food, just like you would have to visit a Mexican taco shop in Mexico to get traditional authentic Mexican food. However, anyone can learn how to make certain cuisines as long as they have the right ingredients and the recipe. By that sense then the answer to this question is yes, but it won't be considered completely "traditional" since a traditional Amish meal will be best from an actual Amish community.
Compare Food Delivery Prices
---
Do Amish restaurants exist?

Yes. As we mentioned in the previous heading, as long as someone knows what traditional Amish foods are and their recipes, they can cook the same type of dishes and open a restaurant to serve those meals. If they get good enough at it they can also open up a restaurant in any city. It doesn't have to be in an Amish community. There are Amish families and members who go and create their restaurants where you would most certainly get a traditional Amish meal with a traditional Amish ambiance.
---
Where can I find Amish restaurants near me?

That will depend on where you live. If you live near an Amish community then all you have to do is drive there and find an open restaurant. Our technology now is so advanced that all you have to do is Google "Amish Restaurants Near Me" or type it into your maps application on your phone. You can also open your yellow pages book to find contact information about Amish people or the restaurants themselves.
---
Top Amish restaurants in the U.S.

We've done some research to list five of the best authentic Amish food restaurants in the country which include Dienner's Country Restaurant, Boyd and Wurtham, Mrs. Yoders Kitchen, Hometown Kitchen, Lititz Family Cupboard Restaurant and Buffet. You will have to do a quick Google search on each to find their locations and more information, but we guarantee you will not be disappointed if you choose to visit and eat there.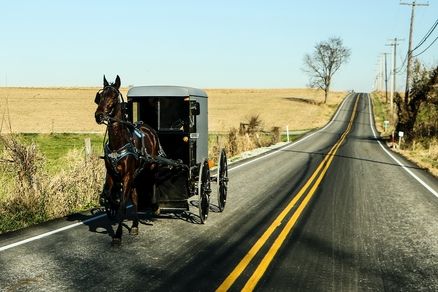 ---
In this article, we discussed the topic of who the Amish people are and what their food consists of. We described where their influences come from and listed some of the most known Amish meals. We hope it has been helpful and whether you want to cook these meals yourself or want to travel to an Amish community, you now know what to ask for and why they eat the way they eat.
Compare Food Delivery Prices
Source: https://www.webstaurantstore.com/blog/2442/classic-pennsylvania-dutch-dishes.html