After a fairly scary and nerve racking March and April, New York state, and in particular, upstate, has managed to contain and slow down the spread of Covid fairly well. After almost a full summer of lowering cases, the Rochester area still appears to be in good shape, though it's important to remain cautious and vigilant and continue to follow all the rules and regulations that have kept us safe thus far.
As we moved through the different phase reopenings, restaurants opened back up and patio dining was popular as people attempted to establish some greater sense of normalcy in their lives. If you're still looking to get some of the great food from awesome restaurants in Park Avenue in Rochester, below are some of the restaurants that reopened with delivery and/or takeout available.
Within the area, Park Ave is pretty widely considered the best place to go for an excellent meal at some of the better restaurants in Rochester, so we created a short list with some of our favorite options. They range from more upscale gastropubs like the ever popular Blu Wolf Bistro or the fast casual and currently pick up option Szechuan Opera where you can find a decent Chinese meal for pretty cheap.
Whether you're looking to bring food from one of these restaurants with you on a picnic to Cobb's Hill or Highland Park, or simply looking for a relaxing evening at home, for a few hours, every restaurant on this list can satisfy both your hunger and your desire to pretend the world isn't currently in utter chaos right now.
Compare Rochester Food Delivery Prices
Without further ado, here is our selection of the 9 best restaurants on Park Avenue in Rochester available for either delivery and/or pickup.
---
Restaurants:
"This authentic Italian deli servies up hot panini's as well as subs and pasta. Add a special Italian dessert to round out the meal."
"Cozy eatery serving simple Italian grub & Sunday brunch in a casual space with an outdoor patio."
"All-day breakfast & Sunday brunch draw crowds to this friendly Greek diner with sidewalk seating."
"Neighborhood nook with ramen bowls & other Pan-Asian comfort food, plus seasonal beers & house sake."
Find Park Ave Delivery
"Soups, salads & sandwiches, plus breakfast & a kids' menu, in a casual cafe with sidewalk tables."
"Laid-back smokehouse with BBQ favorites, signature sauce, craft beer & wine plus weekend brunch."
"Trendy gastropub featuring burgers, New American fare, milkshakes, live music & sidewalk seating."
This is a good option for a quick and easy Chinese food right along Park Ave."
"Hearth-baked pies, deep-dish slices & low-fat varieties in a converted house, plus wings & subs."
"Cozy, casual Italian restaurant with a menu of pasta, meat & fish dishes & an extensive wine list."
---
Whether you're looking for a super quick and cheap meal or a more upscale option, this list should satisfy your needs and point you in the right direction to find a great option. And remember, with FoodBoss, you can always find the best delivery or pickup option from any restaurant.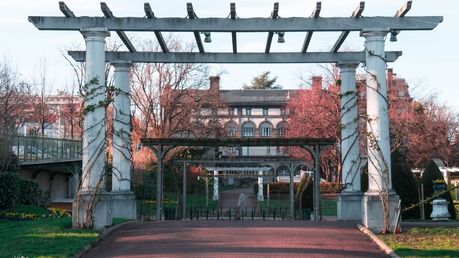 Compare Rochester Food Delivery Prices
Compare delivery prices or time estimates from every restaurant and delivery service in your area to find what works best for you. Search, compare, and save. With FoodBoss.