---
Wondering what the top places in Los Angeles are that are still open for outdoor seating, even during Coronavirus? Here's a list of restaurants that either have patio/outdoor seating open and available with servers, or have seating located outside the restaurant where you can take the excellent food you just picked up to eat.
Compare Food Delivery Prices
---
Top 10 Los Angeles Patios Open Now
---
What Makes These Los Angeles Patios So Great?

It seems like every week there's more and more confusing information and guidelines to follow with regards to Coronavirus safety. Just a few days ago, California Governor Newsome proclaimed a second round of shutdowns after the number of cases and deaths began to rise across the state. While indoor seating is now closed again, patio and outdoor seating options are still open and serving customers looking to get out of the house and socialize.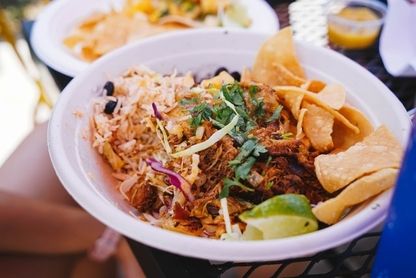 Find options on this list if you're in LA looking for a restaurant that has outdoor options for seating. It's been a long few months, so with this list you can find great options to sit down with friends and finally chat face to face after a long time apart. Reconnect with not only friends, but also family you may have missed out on seeing during lockdown. In addition to reconnecting with friends and family, you'll be doing your little part to support local Los Angeles restaurants. But remember, if you can't make it out, or still want to remain inside lockdown where your risk of Coronavirus is minimized as much as possible, you can always bring the party to you with FoodBoss, the safe way to compare all your delivery and pick up options.
---
Patios & Outdoor Dining/Seating Options in Los Angeles Galore!
Señor Fish is a cantina-style chain with multiple locations across Los Angeles. They have outdoor/patio seating available at this time. They serve and offer breakfasts, ceviche, tacos & regional Mexican specialties at every location including this one!
Located in Little Tokyo in downtown Los Angeles, Twinkle Brown Sugar is a great spot to find delicious bubble tea in the city. Especially now, you'll love that you can pick up your order from this spot and enjoy it outdoors with some of the chairs they have set up outside.
La Luz Del Dia is another awesome option in the city where you can find Mexican cuisine, specifically Michoacan Mexican food. This quaint and colorful restaurant also offers patio seating so you can enjoy time outdoors.
Opened 90 years ago in Los Angeles on Olvera Street, La Noche Buena serves authentic Mexican food for all who come to enjoy it. Popular options include taquitos, enchiladas, tamales, tacos, tamales, chile rellenos, tortas, burritos, birria, menudo, and more.
Roughly translated in English to "foodies," Lao Tao is a great straightforward spot for Taiwanese specialties such as noodles, bowls, and tofu. Right near Chinatown, enjoy their food outdoors with friends at some of the tables and chairs you can find in the area after picking up your food.
Bak's Kitchen is a chain of self-serve frozen yogurt shops known for its wide variety of flavors. While it might not be a sit down meal, they usually have tables set up outside the restaurant so it could be a great spot to sit down with a friend to catch up during quarantine.
This swanky bar/cocktail spot has an outdoor seating patio in the back. It's a cool scene located right near downtown and they serve common bar bites like burgers as well as more common LA treats like bao buns.
This Japanese sushi bar restaurant is a wonderful place to find outdoor seating in the city where you can finally catch up with friends after what feels like ages apart while quarantining.
This Mexican spot only offers take out dining right now, but there's a small little street with some available seating where you can grab your food and wander over to to enjoy. It's great food and you'll still get the outdoor feel.
Tables are set up outside Prime Pizza's Little Tokyo location. While it might not be officially open for patio dining, you can still pick up your order and enjoy it on the street with the seating. They serve old-fashioned classic pizza in addition to garlic knots and salads.
Compare Food Delivery Prices
---
Summary
It's certainly been a tough year for patio and outdoor seating lovers. With many restaurants in Los Angeles closed earlier in the year after the initial wave of Coronavirus spread, dining out options were all but shut down across the city. After a few months, outdoor seating options got the green light to proceed from city officials. While restaurants certainly struggled, and not all were capable of opening, many did manage to adhere to the proper guidelines and opened back up to outdoor seating options. The list of patio seating options above is a great place to start if you're tired of ordering food delivery from all your favorite restaurants and want to mix it up. Just make sure you obey all the CDC and restaurant guidelines to keep yourself and every other person at the restaurant safe.