Burgers are a classic dining option. Personally, there are few things in life I like more than a great burger. If it wasn't so unhealthy, I would probably eat at least one burger a day. While a lot of burgers are boring and typical, with a little extra effort, a burger can transform into a wonderfully inventive and innovative creation. Across Queens there are plenty of restaurants with chefs willing to go that extra wild to turn this classic meal into a tasty and surprisingly bold concoction.


Here are the five best burgers in Queens.

---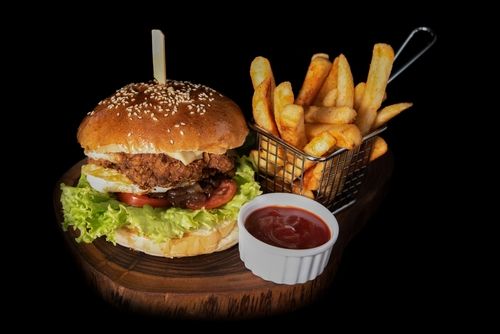 ---
Forest Hills, New York, 11375

The special, creative, and unique idea of BareBurger is that all the ingredients are organic. The burgers are made from grass fed animals, which means more protein and less fat, and chickens are fed naturally, without the use of hormones and chemicals. Bacon used in the burger is better than 'regular', with much more protein and still very tasty and rich. And the bun is made from sprout seeds, which are healthier and easier to digest than wheat. And there are also vegan patties, that are high in protein. So if you want to have a healthier option, but rich and tasty bite, come to BareBurger. They also have healthy beverages to accompany your burger.
---
Great Neck, New York, 11021

Burger Village also takes care of feeding of the animals, so all their patties are made from hormone and antibiotic free, organic and natural, grass fed meat, which means more protein and also a better taste. This place lets you express your creativity, with all the patties listed separately, and left for you to pair them with your winning combination of choice. But if you don't feel like experimenting, you can listen to their proposals. The more classic one is the beef patty combined with cheddar, lettuce, pickles, sauteed onions, and signature sauce, for the ones who like to keep it simple. If you want to add some mystery to it, there is number of options for you. One of those is Pyramid burger, made of lamb patty enriched with mild goat cheese and tzatziki sauce, topped with lettuce, tomato, green pepper, and special flavor comes from freshly chopped cilantro. There are many vegan options too, with the patties made from black beans or mushrooms.
---
Astoria, New York, 11102

Burger Club is one of the ten best rated restaurants in New York City; therefore, their burgers must also be top level of deli. This restaurant is definitely showing creativity in choice of toppings. Check out a few that really stand out here. The Breakfast burger is a real energy boost for the beginning of your day – topped with smoked bacon, cheddar, and a tasty sunny side up egg, it is perfect for busy days. Cheese lovers will find the best one to be Three cheese burger, which gets its luscious flavor from an optimal combination of three cheeses – American, cheddar, and smoked mozzarella, but even this tasteful combo isn't the whole thing – it is topped with grilled ham and onions, adding some spice and salt to it. The possibilities are nearly endless, there is even a perfectly cooked salmon burger, and the 'Farmer's market burger' with goat cheese and avocado, mild or spicy. There is at least one burger for everyone.
---
Bayside, New York, 11361

This restaurant, existing since 1972, has always used fresh and healthy ingredients and everything you eat is prepared in the house and in an open kitchen, so you are able to watch your food being cooked. Maybe the most famous is their Bronco chicken burger, prepared using a simple but mouthwatering recipe. The key is in the exceptionally marinated chicken, and that's where the special taste comes from. The extras, such as lettuce, onion, and tomatoes are just adding up to the taste, leaving you full but desiring more. The turkey burger is also made with a special combination of garlic, onion, and spices which make it one of a kind. The veggie burger, made with extraordinary taste, is made of special combination of black beans, onions, carrots, mushrooms, sweet peas, corn, sweet potato, and a mixture of spices.
---
Tutu's
Brooklyn, New York, 11026

Tutu is the Hawaiian word for grandma, and who feeds their kids better than grandma? And the most heart-warming and relaxing feeling is that childhood memory, so that is the idea behind this restaurant. The burgers here are not the usual combination of meat and salad, but have their own, unique aroma. The house burger is a beef patty, but paired with caramelized shallots and baby arugula, to make it stand out against what we are used to. The lamb burger comes with spinach and feta cheese, giving it Mediterranean smack, and chicken burger is combined with romaine and tomato, simple yet fully flavored. They also have a veggie burger, consisting of sliced avocado and caramelized shallots; you know the old saying, sometimes less is more.


---
There are so many great burger options in Queens. This list is just a start, but if you're looking for the best burger restaurants in Queens, it's a great place to begin your search. Remember to use FoodBoss every time you are looking for the lowest fees or fastest delivery time on food delivery.