"Eating healthy" is probably the most common New Year's resolution, and therefore it is also a resolution that is commonly cast aside just weeks after the holidays end. But after the last few years, staying healthy is as critical as ever to keep us all feeling healthy and fit. And while cooking can often be fun and relaxing, there comes a point where enough is enough and you want to just get out of the house and grab dinner. This doesn't always mean you have to abandon your resolution. It's time we finally commit to those New Year resolutions, starting with taking care of ourselves a bit more. How? It's all in what we eat. Eating a healthy diet is a wonderful way of feeling and looking better. And eating healthy is easier than ever. Shed the COVID-19 without the need to make a meal plan or adhere to an extreme diet makeover.
Forget about bland salads, lackluster grains, and shopping for food that will only go to waste in your fridge. Today, most restaurants and food chains offer exciting salads & other healthy tidbits that will leave you satisfied. Let's take a look at the top spots to keep you eating healthy without breaking the bank or wasting a ton of time because let's be honest, getting back into the swing of things is a little difficult.
Now we're going to do this a bit differently than most. Let's break it down by meal of the day so that no matter what time of day, you've got great options.
Healthy Delivery Options for Morning/Breakfast Time
Well we all know that coffee is actually a low calorie, natural way of getting a nice pick me up and we've got options that can also hook you up with a fan health favorite, oatmeal.
---
If you haven't heard of Sweetgreen, you'll want to add this to your list as a great option for a quick healthy meal. This chain is all about salads and bowls. Favorites include the Harvest Bowl, Chicken Tostada, Kale Caesar, and Steelhouse Remoulade.
You may have heard of Sweetgreen due to some of the many high-profile collaborations they've done in the past including, Naomi Osaka, David Chang, and Kendrick Lamar.
A healthy alternative to the usual greasy fast food meals and snacks, Saladworks not only offers a menu full of salads, but also wraps, soups, and sandwiches guaranteed to delight. My top recommendation would be the Avocado Cobb salad or Grilled Chicken Caesar wrap.
The Meatball Soup is also a favorite, and an unexpectedly good option so I recommend the Half Signature Soup and Salad options, especially as a great option when looking for a healthy lunch meal.
Similar to Sweetgreen, Just Salad, as the name vividly indicates, is all about their salad options. Plenty of options scattered throughout the menu accommodate individuals adhering to a wide range of diets including, vegan, keto, paleo, and gluten-free.
Wraps and smoothies are also available. Personally, I think the Strawberry Banana and Almond Berry Blast smoothies are phenomenal add-ons to your meal. They also have a wide range of bottled dressings available. Consider buying a few extra next time you go to Just Salad to save for later.
Waking up in the morning with a refreshing and revitalizing smoothie or juice is the perfect way to start your day on a healthy foot. Roll out of bed and right over to Jamba Juice which has a wide variety of smoothies, juice shots, and if needed, low-calorie snack options.
Perfect for those in a rush, their "Packs" options include a smoothie or cold brew beverage with a protein-packed menu item to fuel up on the go. Some favorite classic smoothies include the Aloha Pineapple and Caribbean Passion, but you can also opt for super blends like the Acai Super-Antioxidant or Orange-C Booster.
You probably know TGI Fridays for its burgers, wings, and loaded fries — not precisely the healthiest meals for you. Still, the restaurant chain has committed to offering better salads, and they are some of the tastiest in the market.
Try Friday's Caesar Salad made with romaine, Parmesan-pecorino, the famous Caesar dressing, and crunchy parmesan chips and croutons (skip the croutons and cut out like 100 calories). We recommend grilled chicken but pick your favorite protein and enjoy.
The famous pizza restaurant is known for its barbecue chicken pie, but they offer healthy alternatives as well. Try the fresh spring rolls or the Tuscan hummus for low-calorie appetizers and don't miss out on their salads, of course.
The CPK Cobb Salad with Blue Cheese Dressing is to die for and adds only 543 calories to your diet. This colorful salad, along with the chain's Wedge Salad, is amongst our favorite nationwide. Congratulations to the good folks at CPK!
Another spot on this list belongs to a restaurant specializing in juices, Nekter Juice Bar. Although, don't be afraid to try some of their non-juice menu items. I personally recommend trying their bowls and pairing them with some of the great juice options.
The Acai Banana Berry Bowl is packed with loads of fruit to kickstart your morning and pairs great with any of their smoothies, juices, or juice shots. Their grab-n-go bottles are an excellent option if you're in a rush and still want to enjoy their top-notch juices. Favorites include Tumeric Citrus Skinny Lemonade and Vanilla Spice Superfood Protein.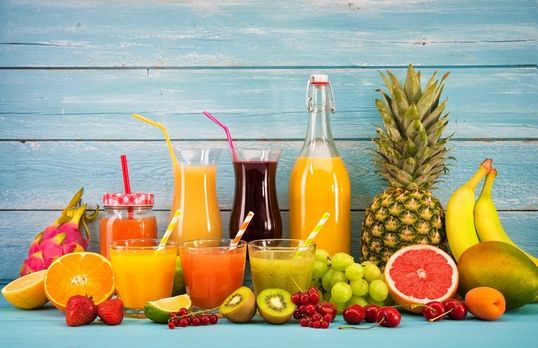 Chipotle is a recent alternative nationwide, but it certainly has left a mark. From burrito bowls to all kinds of tacos, Chipotle is an authoritative choice to quench your Mexican cravings.
Chipotle has a health-oriented menu as well, with a crunchy Paleo Salad Bowl and a Keto Salad Bowl as its main features. You'll also love the Whole30 Salad Bowl with plant-based chorizo, super greens, and lettuce. And, you know what? The chain's creamy guacamole is a healthy alternative as well!
Panera might just serve the best sandwiches in the country, which are healthy enough already. The chain's salads are fantastic as well, and they're more flavorful and satisfying than you think.
Try the Citrus Asian Crunch Salad with grilled chicken or the Green Goddess Cobb salad for a crunchier alternative. If you like your salads sweet, then the Fuji Apple Salad is a must — you can top this one with chicken as well.
This lesser-known food chain is growing fast due to their legitimate Mexican-inspired, and Tex-Mex meals that are as vibrant as they are tasty.
Mexican food is already tasty; a quesadilla is filling and relatively low carb. Still, if you want to take care of yourself, order the Fresca Chicken Bowl. Recently added to the menu, this salad comes with grilled adobo chicken, jalapeño Verde sauce, pickled onions, fresh cheese, and lots of lettuce. A bed of black beans makes it even more filling.
---
There's No Excuse; There's A Salad For You!
Now you know. Salads are the new thing, and they're more creative and wholesome than ever. Chain restaurants are setting the bar high for the category, and we are real winners here, all of us. Visit your favorite restaurant and check out the salads! You won't regret it.